Brochures
View our brochure for an easy to understand the detail of the product.
Introduction
Rotary Film Evaporator is essentially a thin film evaporator. The rotating flask continuously covers a large surface area with a thin film which is ideal for rapid heat transfer. Fortuitously, the thin film also ensures uniform heat distribution without local heating. The facility to work the unit under full vacuum further facilitates evaporation at as low temperature as possible. That is to say, both boiling point and residence time are significantly reduced. These features combined, renders rotary film evaporator to be ideally suited for evaporation of heat sensitive material. It is equally successful for evaporation of suspension in crystallization processes, drying of powder/ granules etc.
Rota Evaporator finds wide use from small scale laboratory set-ups to industrial operation. Goel Rotary Film Evaporator (GRFE) is preferred by both research and production facilities and has been used by laboratory and chemical, pharmaceutical and biotechnological industries.
Universal corrosion resistance.
Auto controlled, digital display of rotational speed and bath temperature.
Digital display of process time.
Automatic bath lifting.
Automatic bath lowering in case of power failure.
Withstands full vacuum.
Ideally suited for heat sensitive material.
Maintenance free working – Operational reliability.
Available in large sizes upto 400 Litre.
Construction :
Goel Rotary Film Evaporators are completely self contained units consisting mainly of :
An electrically heated SS heating bath with facility for raising and lowering the height.
Rotating flask of corrosion resistant borosilicate glass which is connected to drive by a coupling.
The drive is a hollow glass shaft which also acts a vapor off-take pipe. The drive shaft s sealed on condenser/receiver with teflon seal. Power is transmitted to the shaft by a motor driven gear with provision for varying speed.
Condenser/receiver arrangements are of standard design depending on the model/size.
GOEL'S Specialty: Mechanical Seal Arrangement and T shaft (Made from GFT) with Ceramic Seal plate which results optimum vacuum Without Breakage.
Performance Data :
The performance of rota-evaporator depends on various parameters such as temperature differential between bath and contents of flask, RPM, flask capacity and working pressure. An indicative comparison of boil-up of CCI4 rates for 20L, 50L and 100L is given in above figure.
Technical Informations Related To Various Models Of Rotary Evaporator Are Furnished Below:
Model
Rotating
Flask
Capacity (ltrs.)
Rotating
Speed (rpm)
Electric
Motor
Rating
Condense
Cooling
Area (M2)
Receiver
Flask
Capacity (ltrs.)
Power
Supply
(Volt/Hz)
Bath
Rating KW
GRFE 5
5
20-280
180 Watt
0.2
2
230 V, 50 Hz 1 Phase
2
GRFE 20/ GRFE 10
10
20-135
0.25 HP
0.5
10
415 V, 50 Hz 3 Phase
4
GRFE 50
5
20-135
0.50 HP
1.5
20
415 V, 50 Hz 3 Phase
6
GRFE 100
100
20-90
1 HP
2.5
50
415 V, 50 Hz 3 Phase
12
GOEL brand is associated with quality & reliability and as a company is trend-setter in this business in India.
5, 10, 20, 50, 100 Ltrs.
Salient Features :
all GRFE can comply GMP And Non GMP norms according to customer requirement.
Attractive Vertical Orientation
Digital RPM indicator & VFD based speed control.
Digital Temperature Indicator & Controller
Digital Process Time Indication
Digital vapor temperature indicator
Motorized VFD based UP & down of bath.
S.S. bath with insulated & electrical heaters with overflow nozzle & drain valves.
Durable S.S. gearbox cover , with motor encased into the Mechanical Assembly
Complete glass assembly as per the specs in the table
Anti-splashing hood
In non GMP model body will be M.S. Powder coated.
The whole unit is mounted on lockable wheels.*
Fully tested & ready to use!!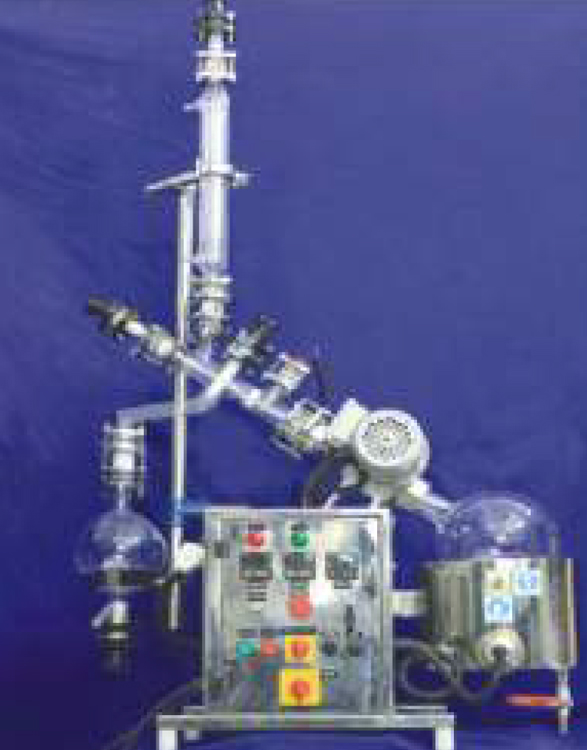 Chiller Unit
PTFE COATED DIAPHRAM / OIL SEALED Vacuum pump with setup
20 Liter Unit can be supplied with adjustable 10Ltr. Main Flask in 20Ltr. Rotary Film Evaporator so it can be operated at lower volume as and when required.
5 Liter Unit can Accommodate Interchangeable 1, 2, 3, & 5 Liter Flasks. Main flasks will be 5 Liter. So, it can be operated at lower volume as and when required.