In addition to range of glassware, we also supply Benchtop Lab Glass Reactors. This includes small vessels (single, double or triple walled) from 0.5 L to 5 L. In addition we have all the glass components you are likely to need such as condensers, receivers, addition funnels, reflux dividers etc.
Our Benchtop Lab Glass Reactors include easy accessibility through open support frame, manufactured from German made Borosilicate glass and a minimal dead space with many other standard and optional features.
Key Specifications :
Reactor Volume: 0.5 L to 5 L
Reactor Type: Single Wall, Double Walled & Triple Walled
Operating Pressure: Full Vacuum to 0.5 bar (g)
Operating Temperature: -50°C to +180°C
Gear Motor with Inbuilt Digital Indicator Speed Range 40 to 400 RPM
Thermal Shock Resistance: (Dt): 60°C for Triple Walled and 110°C for Double Walled Reactors.
Standard GL Threads for Inlet and Outlet. (Inlet and Outlet can be supplied with beaded process pipe.)
| UNIT CAT. REF. | ADDITION FUNNEL (ML) | CONDENSER LENGTH | LXBXH |
| --- | --- | --- | --- |
| BLR 0.5 (100DN) | 200 | 300 | 250X250X900 |
| BLR1 (100DN) | 250 | 300 | 250X250X900 |
| BLR 2 (100DN) | 500 | 300 | 250X250X1350 |
| BLR 3 (150DN) | 500 | 300 | 250X250X1450 |
| BLR 5 (150DN) | 500 | 400 | 350X350X1450 |
Salient Features :
Reactors equipped with the flush bottom valve of the special type to ensure leak-free sealing over entire temperature range.
All reactors are designed to keep L/ID Ratio within 1.5(max) for performance and easy scale up. L/ID ratio may be changed on request.
All These Reactors are designed GMP.
Manufacture from German Raw Material.
Ideal for benchtop fume hoods.(SS/MS)
Stirrer with suitable seal (Mechanical, Stuffing Box, Magnetic Seal, High Vacuum Stuffing Box).
Skid mounted and quick release coupling for ease of installation and dismantling.
Overhead stirrer motor with built-in speed controller and display.
Interchangeable Stirred (Anchor/Propeller/Turbine) as per your suitability.
Optional :
Vacuum Pump
Digital Temp Indicator
Chiller
Heating / Cooling System
Hot Water/ Oil circulator
Mobility Support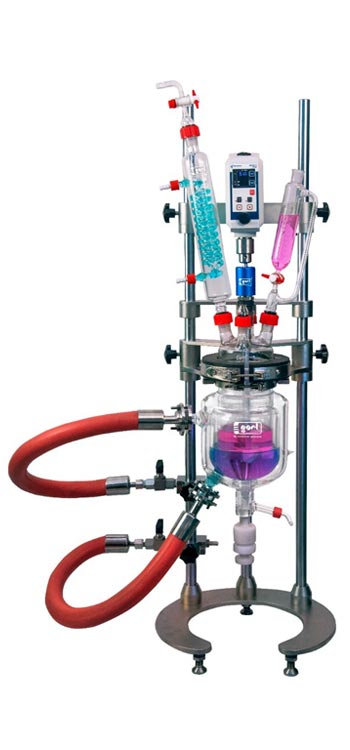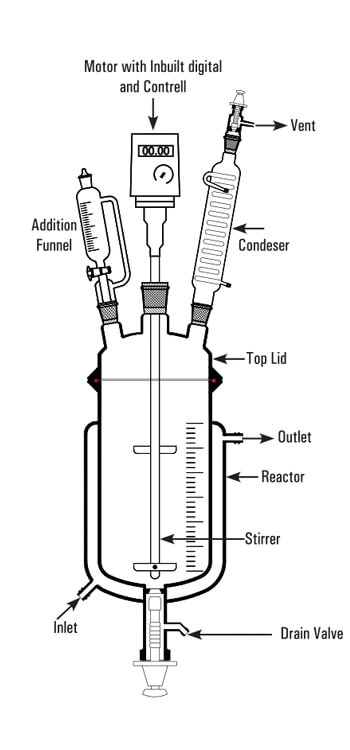 Brochures
View our brochure for an easy to understand the detail of the product.