Brochures
View our brochure for an easy to understand the detail of the product.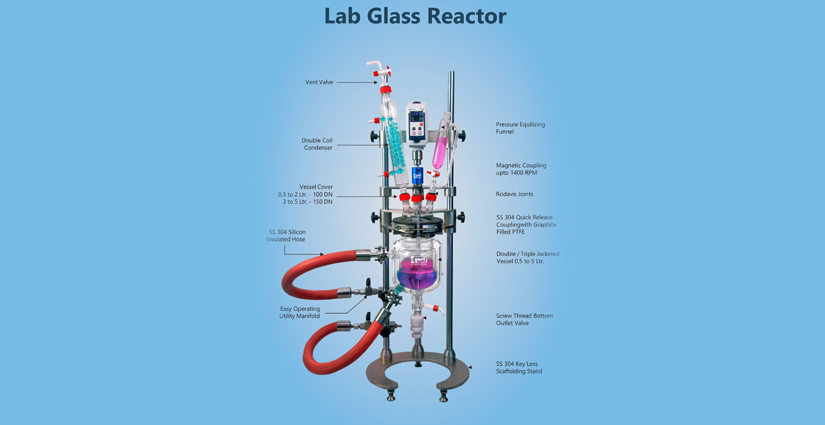 Lab Glass Reactor
We have a variety of vessel option to choose from our standard range. Beside the manufacturing of our Standard Vessels / Rectors, we specialize in producing reactors as per customer's requirement. We can fabricate the reactor as per drawing or picture.
Our experiences team of Engineers can also assist in designing of glass reactor as per your requirement. Feel free to call or mail us at [email protected]
Reactor Options:
Single Wall, Double wall or Triple Wall Glass Reactor
Operating Conditions :
Temperature :
-50°C up to 180 °C
Pressure :
Full vacuum up to 0.5 bar
Capacities :
100 ml L up to 10 L
Salient Features
Glass Reactors made from Germany Raw Material.
Lab Reactor system suitable for most benchtop fume hoods.
Stirrer with suitable mechanical seal/stuffing box/magnetic seal.
Skid Mounted and quick release clamp for easy installation & removable of glassware.
Suitable for vacuum condition
Flush bottom with minimum dead volume.
Overhead Stirrer geared motor with built-in speed controller & display.
Measurement Marking on the vessel.
Interchangeable Stirrer anchor, propeller, turbine Digital temperature indicator
Optional:
Hot water/oil circulator, Chiller, heating /Cooling system ,Vacuum Pump, PH probe with transmitter, Pressure Gauge.
| Unit Cat. Ref. | Reactor Cap(L) | Gear Motor with Inbuilt Digital Indicor | Addition Funnel | Condenser Length | L x B x H |
| --- | --- | --- | --- | --- | --- |
| LJR 1L | 1 Ltr. (100DN) | Speed 40-400 RPM | 250ml | 200mm | 250x250x900 |
| LJR 2L | 2 Ltr. (100DN) | Speed 40-400 RPM | 500ml | 300mm | 250x250x1350 |
| LJR 3L | 1 Ltr. (100DN) | Speed 40-400 RPM | 500ml | 400mm | 250x250x1450 |
| LJR 5L | 5 Ltr. (150DN) | Speed 40-400 RPM | 1000ml | 500mm | 350x350x1450 |
| LJR 10L | 10 Ltr. (200DN) | Speed 40-400 RPM | 2000ml | 600mm | 400x400x1700 |