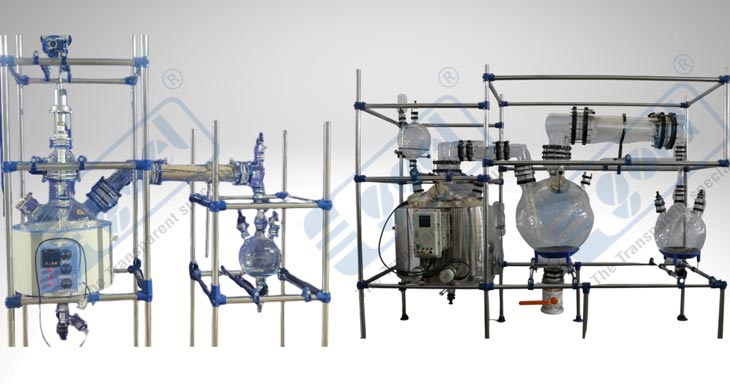 Kilo lab & Glass Pilot Plant by Goel Scientific Glass Inc. USA & CANADA: 1 Ultimate Guide
Piyush Shah (Business Director)

August 3, 2023
Glass Kilolab / Glass Distillation units are multi-purpose pilot plant units having the flexibility of utility. Glass Kilolab/distillation units have been standardized by incorporating all basic & essential features such as heating, stirring, condensation, and fractionation, cooling etc.
for multi-purpose use. Therefore, though termed Kilolab / Glass Distillation units from a constructional viewpoint they actually serve as Flexi Units from a utility point of view, also known as Glass Reactor and distillation units.
These glass reactor Kilolabs / Glass Distillation units are used in educational institutions, R&D centers, and industries. The distillation unit can be conveniently and quickly modified according to specific process needs due to modular construction.
Borosilicate glass offers additional benefits of universal corrosion resistance, visibility, and cleanliness.
Kilo lab/Pilot Plants in Detail
The kilo lab and pilot plant is a clean room, or a kilo labs that operates in a controlled environment.
This type of facility is beneficial because the equipment and experiments are not exposed to any outside contaminant.
The term kilo lab equipment can also refer to a pilot plant, which is usually a scaled-down version of the full-size industrial plant.
what is Kilolab in pharma
Kilo labs are usually used in R&D, production process development, quality control testing, and product improvement studies.
Kilo lab definition
Pilot plants are often used when there is no full-scale industrial plant available or when it would be too expensive to build one for research purposes only (such as testing the feasibility of an invention).
A kilo lab is a unit of measurement for the amount of material required to produce a specific product.
Kilos are important because they allow business owners to know how much raw materials they have on hand at any given moment and get an idea of how long it might take them to build a new product.
Kilolab design
Pilot plants are used in order to get a sense for whether or not the business owner should go ahead with mass production of the product.
They will use this plant in order to test out their production process and see what kinds of issues may arise.
This allows for troubleshooting before going into mass production, which saves time and money in the end.
What is a Kilolab
The kilo lab is a low volume production facility for small-batch compounds with high complexity that are in need of clinical trials.
This type of lab gets its name from the unit of measurement "kilo" which is equivalent to 1000 grams.
The pilot plant is a scaled down version of the full-scale facility where all the unit operations are conducted in series.Both these types of labs are needed in order to test out new drug candidates before they go into clinical trials.
A kilo lab is a smaller version of a full-scale production plant that is used for testing and evaluation.The pharma industry has been changing rapidly in the last couple decades with the developments in biotechnology and nanotechnology.
Difference between Kilolab and Pilot Plant
A kilo lab can be defined as a small-scale plant used for testing and evaluation.
It is an important part of the research and development process, which helps to identify potential problems with scale-up.
Kilolab and Pilot Plant manufacturing
Kilo Lab is a pharma manufacturing facility that has been designed to meet the needs of small molecule, API and biologics.
Kilolabs supplements
It is able to manufacture batches of up to 1 kilogram (2.2 pounds) in size and can make finished products in different formats, including solid oral dosage forms, inhalers, liquids for injection, suppositories, ointments and parenteral formulations.
The pilot plant is where batches are made on a smaller scale before being mass-produced on the Kilo Lab production line.
Kilo Lab Equipment